By tightlynes on Sep 23, 2010 in Human Interest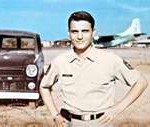 President Obama has finally said something that we feel all Americans can agree with. He stated, "…it's never to late to do the right thing." President Obama was awarding the Medal of Honor posthumously to U.S. Air Force Chief Master Sgt. Richard L. Etchberger.
The ceremony finally answered the questions of U.S. Air Force Chief Master Sgt. Richard L. Etchberger's children as to how their father died on March 11, 1968. They had been told that he had died in a helicopter accident while serving our country. To them he has always been a hero. Now, 42 years later, they know that he is a hero's hero.
Chief Master Sgt. Richard L. Etchberger died by enemy fire after saving the lives of three comrades in Laos. He single-handedly held off the North Vietnamese while helping to evacuate wounded comrades after their base on a remote Laotian mountain. The next morning after helping three wounded comrades into rescue slings, he was fatally wounded by enemy ground fire.
For 42 years his wife and children were not allowed to know of the fact that he gave his life so that others could live because the mission was "Top Secret". But they always knew that he died "doing his job" as he considered serving our country.
To read more about the ceremony and to view a short video of President Obama presenting the award simply click on Obama Awards Medal of Honor Posthumously.
On behalf of all the "Union of Americans" "Patriots" we would like to "do the right thing" and thank Chief Master Sgt. Richard L. Etchberger and all of the other unsung heroes for serving our country. It is only by their acts that the American People can be safe, secure and look forward to a bright future. ~ Editor