By tightlynes on Jan 5, 2010 in Politics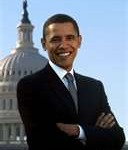 Obama was born on August 4, 1961, at the Kapiolani Medical Center in Honolulu, Hawaii, to Barack Hussein  Obama, Sr., of Nyangoma-Kogelo, Siaya District, Kenya, and Ann Dunham, of Wichita, Kansas. His parents met while both were attending the University of Hawaii at Manoa, where his father was enrolled as a foreign student. They separated when he was two years old and later divorced. After her divorce, Dunham married Lolo Soetoro, and the family moved to Soetoro's home country of Indonesia in 1967, where Obama attended local schools in Jakarta until he was ten years old. He then returned to Honolulu to live with his maternal grandparents while attending Punahou School from the fifth grade in 1971 until his graduation from high school in 1979.
Following high school, Obama moved to Los Angeles, where he studied at Occidental College for two years. He then transferred to Columbia University in New York City, where he majored in political science with a specialization in international relations. Obama graduated with a B.A. from Columbia in 1983, then worked at Business International Corporation and New York Public Interest Research Group.
After four years in New York City, Obama moved to Chicago to work as a community organizer for three years from June 1985 to May 1988 as director of the Developing Communities Project (DCP), a church-based community organization originally comprising eight Catholic parishes in Greater Roseland (Roseland, West Pullman, and Riverdale) on Chicago's far South Side. During his three years as the DCP's director, its staff grew from 1 to 13 and its annual budget grew from $70,000 to $400,000, with accomplishments including helping set up a job training program, a college preparatory tutoring program, and a tenants' rights organization in Altgeld Gardens. Obama also worked as a consultant and instructor for the Gamaliel Foundation, a community organizing institute. In summer 1988, he traveled for the first time to Europe for three weeks then Kenya for five weeks where he met many of his Kenyan relatives for the first time.
Obama entered Harvard Law School in fall 1988 and at the end of his first year was selected as an editor of the law review based on his grades and a writing competition. In his second year he was elected president of the law review, a full-time volunteer position functioning as editor-in-chief and supervising the law review's staff of 80 editors. Obama's election in February 1990 as the first black president of the Harvard Law Review was widely reported and followed by several long, detailed profiles. He graduated with a J.D. magna cum laude from Harvard in 1991 and returned to Chicago where he had worked as a summer associate at the law firms of Sidley & Austin in 1989 and Hopkins & Sutter in 1990.
The publicity from his election as the first black president of the Harvard Law Review led to a contract and advance to write a book about race relations. In an effort to recruit him to their faculty, the University of Chicago Law School provided Obama with a fellowship and an office to work on his book. He originally planned to finish the book in one year, but it took much longer as the book evolved into a personal memoir, at one point Obama retreated to Bali for several months with his wife, Michelle, to work on it without interruptions, before it was finally published as Dreams from My Father in summer 1995.
Obama directed Illinois Project Vote! from April to October 1992, a voter registration drive with a staff of 10 and 700 volunteers that achieved its goal of registering 150,000 of 400,000 unregistered African Americans in the state, leading Crain's Chicago Business to name Obama to its 1993 list of "40 under Forty" powers to be.
Obama taught constitutional law at the University of Chicago Law School for twelve years, as a Lecturer for four years (1992–1996), and as a Senior Lecturer for eight years (1996–2004).
In 1993 Obama joined Davis, Miner, Barnhill & Galland, a 12-attorney law firm specializing in civil rights litigation and neighborhood economic development, where he was an associate for three years from 1993 to 1996, then of counsel from 1996 to 2004, with his law license becoming inactive in 2002.
Obama was a founding member of the board of directors of Public Allies in 1992, resigning before his wife, Michelle, became the founding executive director of Public Allies Chicago in spring 1993. He served on the board of directors of the Woods Fund of Chicago, which in 1985 had been the first foundation to fund Obama's DCP, from 1993–2002, and served on the board of directors of The Joyce Foundation from 1994–2002. Obama served on the board of directors of the Chicago Annenberg Challenge from 1995–2002, as founding president and chairman of the board of directors from 1995–1999. He also served on the board of directors of the Chicago Lawyers' Committee for Civil Rights Under Law, the Center for Neighborhood Technology, and the Lugenia Burns Hope Center.