By tightlynes on Jul 20, 2010 in Human Interest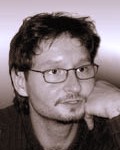 Our thanks go to "Union of Americans" "Reader B5" for introducing us to these very interesting, realistic  pictures. Edgar Mueller is a very talented artist that we are sure you'll enjoy. ~ Editor 
A true Artist can use many different items for his canvas. Edgar Mueller chooses to use the street as his. Mr. Mueller's art is known as "3 Dimensional Chalk Art". When an Artist is as talented and gifted at his craft as Mr. Mueller is they receive the designation of Master. As you view Mr. Mueller's work, you will agree that he is indeed a Master of Street Painting.  
 Mr. Mueller paints over large areas of urban public life and gives them a new appearance, thereby challenging the perceptions of all who passby. If you look from the right spot, the three-dimensional painting becomes the perfect illusion.  
 Edgar states that the real intention of his work is to offer his audience scenery that will challenge them to actively interact with in some manner. The spectator becomes the protagonist and must utilize the creative element of the scene that is offered. 
"Mysterious Cave Appears in London"
Street Painting Gazette – 2009 Festival Edition
Scientists have been baffled by the appearance of a mysterious cave at West India Quay (London). It is believed that a light earthquake unearthed the cave, which is estimated to be over 10 million years old. Initial investigations have revealed that the waters of the River Thames likely feed its lake. However, they cannot explain the intense glow of green lights emitting from its depths. Scientists now hope to uncover some of its secrets. 
The 1st street painting in the "Cave Series" was designed for The West India Quay's Festival held in London, England. Each of the "Caves" will appear in a different country. Edgar Mueller came up with the idea while touring caves in the province of Shandong in China. 
The 2nd street painting in the "Cave Series" was designed for the 2009 International Street Painting Competition in Geldern, Germany. The Festival took place August 15 – 16, 2009. 
The 3rd street painting in Edgar Mueller's "Cave Series" was designed for The Festival in Ptuj, Slovenia. He began painting it on August 20, 2009 and completed it on August 24, 2009. The Ptuj Festival took place from August 24 – 28, 2009. For more information on the Ptuj Festival please visit their official website: http://www.odprtomesto.com. 
 For more information on Edgar Mueller and his fabulous works, please visit his website: http://www.metanamorph.com