By tightlynes on Jan 14, 2011 in Health, Uncategorized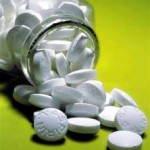 Recently the "Union of Americans" editorial staff received a "Forwarded" Email titled "Good Info" about the importance of taking aspirin daily to prevent a stroke or heart attack. The original Email was supposedly from a doctor associated with the Mayo Clinic.  As is our policy, we verified the information and unfortunately discovered that the Email was indeed "Fiction".  The original Email did not originate from the Mayo Clinic and they have even gone as far as posting a disclaimer regarding the "Forwarded" Email on their website (http://newsblog.mayoclinic.org/2010/02/28/misleading-aspirin-email-virend-somers-mayo-clinic/). 
For years the medical community has stated that Daily Aspirin Therapy may lower a person's risk of heart attack or stroke but that you should only do Daily Aspirin Therapy following your doctor's approval.
The reason for checking with your doctor prior to beginning Daily Aspirin Therapy is because it is not for everyone. If you have a bleeding or clotting disorder, Daily Aspirin Therapy is not a good idea as aspirin interferes with your blood's clotting action. Also if you have Asthma, Stomach Ulcers or Heart Failure your doctor probably will not recommend Daily Aspirin Therapy.
If you have had a heart attack or stroke talk to your doctor about beginning Daily Aspirin Therapy if you haven't done so already. Your doctor will discuss the risk factors for a heart attack or stroke with you. Some of the risk factors include, but are not limited to, smoking tobacco, high blood pressure, lack of exercise, diabetes, stress, and family history. 
Once your doctor is aware of your risk factors, he will review with you your prescriptions, 'over-the-counter' medications, herbal supplements and vitamins. This is to be sure that you do not have to worry about any adverse drug interactions with the Daily Aspirin Therapy.
Another reason that Daily Aspirin Therapy should be done under a doctor's care is that there are side effects and complications that can occur. Again, these include but are not limited to Hemorrhagic Stroke, Gastrointestinal Bleeding, Allergic Reaction and Tinnitus. 
As for the question about is it safe to take aspirin during a heart attack or stroke, the answer is "Yes and No". Doctors do recommend it for people experiencing heart attack symptoms unless they have certain bleeding disorders. However if you are having a stroke, you should not take an aspirin as not all strokes are caused by blood clots. 
The information contained in this article is from the Mayo Clinic's website. For their complete article simply click on "Daily Aspirin Therapy: Understand the Benefits and Risks" by the Mayo Clinic.com.