By tightlynes on Jan 26, 2010 in Politics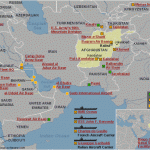 Reprint. This article originally was published in the July 2006 edition of the "Union of Americans Reality".
Osama bin Laden and three other prominent Muslims declared Jihad (War) on the United States in 1998. It was the sixth year of the Clinton Presidency and two years before George Bush was elected.
What follows is the closing language of the Declaration…
"On that basis, and in compliance with Allah's order, we here by issue the following decree to all Muslims: the ruling to kill the Americans and their allies — civilian and military – is an individual obligation incumbent upon every Muslim who can do it and in any country- this until the Aqsa Mosque (Jerusalem) and the Holy Mosque (Mecca) are liberated from their grip, and until their armies withdraw from all the lands of Islam, defeated, shattered and unable to threaten any Muslim. This is in accordance with the Word of the most High-"Fight the pagans all together as they fight you all together" (9:36) and the Word of the Most High," Fight them until there is no more tumult or oppression, (all) religion belongs to Allah" (8:39)."
We have engaged Al Qaeda and the Taliban in Iraq and Afghanistan. The wars in Iraq and Afghanistan are part of the Global War on Terrorism. If we leave Iraq and win in Afghanistan, we give our enemies, the Al Qaeda and Taliban, and their Muslim Terrorist Allies a secure base from which they can conduct their Global Jihad (War) against the United States and the Free World.
If the United States leaves Iraq, we will be turning over to Terrorism a nation of 27 million Iraqi Muslims, the world's third largest oil reserves and a country that can become a safe Terrorist Nation.  They will find millions of recruits for organized terror attacks, they will be able to finance terrorist operations, WMDs (Weapons of Mass Destruction) and obtain nuclear weapons for their Jihad and their assault on the Free World. Their number one target is the United States.