By tightlynes on Sep 20, 2010 in Politics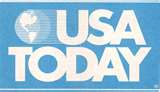 One of President Obama's highest-profile supporters in the 2008 election — retired Gen. Colin Powell — wonders if Obama has lost some of his ability to connect with Americans.
"It's not just me picking on the president," Powell said yesterday on NBC's Meet The Press. "It's reflected in the polling."
The White House would no doubt disagree, Powell said, but a number of Americans seem to believe that Obama is spending too much time on things like health care, environmental legislation, and education, and not enough on the primary issue: Jobs.
Of course, that is the topic of Obama's CNBC town hall today at noon.
Powell, the Secretary of State for President George W. Bush, also suggested that Obama spend more time on the deficit, and deal better with the business community.
A partial transcript of Powell's comment:
I think he has lost some of his ability to connect during the campaign. It's not just me picking on the president, it's reflected in the polling. Some of the anxiety and anger that you see out there, I think, comes from a belief on the part of the American people — whether it's correct or incorrect, and the White House would say it's incorrect — that not enough attention (is being paid to jobs) … his singular focus should be on unemployment.
Wall Street got fixed. They're getting their bonuses back. We fixed the auto industry. It's starting to function but people are still seeing a 9.6 percent unemployment rate. They're losing their homes. They're homes are under water. Mortgages can't be paid. Short sales.
They are anxious and they are expecting more out of the president. I think he has to do more with respect to reducing the deficit and also being careful about putting more and more programs, more and more rocks into that knapsack because the American people are looking for a singular focus on the economy and unemployment.
And as part of that, he needs to focus on the business community. In my travels around the country, the business community is not that satisfied with the administration right now. So, I think the president is aware of all of this. His advisers are aware of all of this and I hope we will see him moving more vigorously in this direction.
(Posted by David Jackson, USA Today)
http://content.usatoday.com/communities/theoval/post/2010/09/powell-wonders-if-obama-is-losing-his-ability-to-connect/1