By tightlynes on Sep 22, 2010 in Human Interest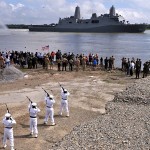 The commissioning of USS NEW YORK (LPD-21) on November 7, 2009 was the first milestone in USS NEW YORK's entry into the United States Navy fleet. The USS NEW YORK (LPD-21) has a special mission in the war on terror.
From flight deck to crew quarters, the LPD of the 21st century is state-of-the-art in design and technology, superseding four older classes of amphibious landing craft. She is a San Antonio-class LPD (Landing Platform, Dock) warship. The lead ship in the LPD series, USS SAN ANTONIO (LPD-17), was followed into the Navy fleet by USS NEW ORLEANS (LPD-18), USS MESA VERDE (LPD-19), USS GREEN BAY (LPD-20) and USS SAN DIEGO (LPD-22).
 She is one of three new amphibious assault ships named after places in three states where more than 3,000 people were murdered in the infamous terrorist attack of September 11, 2001. The other two: USS ARLINGTON (LPD-24) named for the Virginia county in which the Pentagon is located, and the USS SOMERSET (LPD-25) named for the Pennsylvania county where American Airlines Flight 93 crashed into a field.
All three ships will go to sea with steel in their bows that was salvaged and re-formed from all three terrorist attack sites: LPD-21's from the World Trade Center, LPD-24's from the Pentagon building's structural girders and LPD-25's from the meltdown of a crane used to excavate the airliner wreckage. All three ships embody the strength and determination of the people of the United States: to recover, to rally, and to take the fight to the enemy.
In fact, the USS New York (LPD-21) is the latest in a long line of warships named for the state and city of New York. Compared to previous USS NEW YORKs, each of these modern-day ships is a swift and agile giant. The LPD-21, for example, cruises significantly faster and her waterline is 111 feet longer than the long-ago decommissioned battleship USS NEW YORK (BB-34).
As force-projection platforms, USS NEW YORK and her sister LPDs are designed and equipped to operate with maximum stealth and tactical flexibility. Her components include…
The V-22 tilt-rotor Osprey aircraft

Three types of helicopters

14 expeditionary fighting vehicles (EFVs) and/or several air-cushioned landing craft (LCACs) for across-the-beach deployments of U.S. Marine Corps and Special Forces personnel.
Special features of USS NEW YORK (LPD-21):
Her bow stem includes seven and a half tons of steel recovered from the World Trade Center's twin towers

Construction with World Trade Center steel encouraged by Governor George Pataki of New York State and Mayor Michael Bloomberg of New York City

Name given by then Secretary of the Navy Gordon England

Her keel was laid in August 2004

When Hurricane Katrina hit in August 2005, 1,200 shipyard workers opted to keep on working.

She was christened at Northrop Grumman's Avondale, Louisiana shipyard on March 1, 2008

Ship's motto: 'Strength forged through sacrifice. Never forget.'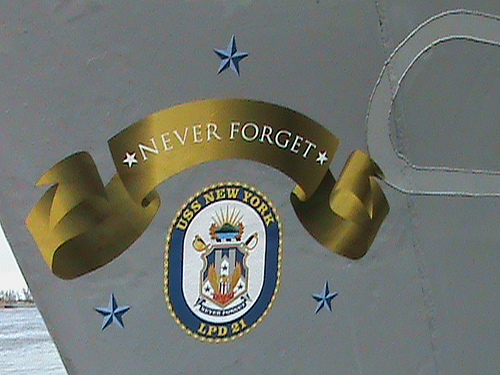 Seven rays of sunlight signify the crown atop the Statue of Liberty and the seven seas.

Central focus placed on the Twin Towers and the bow of the ship, forged from Twin Towers steel.

Breastplate of the phoenix bears the colors of first responders from the New York Police Department, New York Fire Department, and Port Authority of New York and New Jersey.

Blood drops represent the fallen.

Three stars for those earned by the battleship USS NEW YORK (BB34) in World War II at Iwo Jima, Okinawa and North Africa.