By tightlynes on Feb 22, 2010 in Politics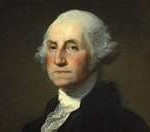 No Senate tradition has been more steadfastly maintained than the annual reading of President George Washington's 1796 Farewell Address.  In this letter to "Friends and Citizens," Washington warned that the forces of geographical sectionalism, political factionalism, and interference by foreign powers in the nation's domestic affairs threatened the stability of the Republic.  He urged Americans to subordinate sectional jealousies to common national interests.
The Senate tradition began on February 22, 1862, as a morale-boosting gesture during the darkest days of the Civil War.  Citizens of Philadelphia had petitioned Congress to commemorate the forthcoming 130th anniversary of Washington's birth by reading the Address at a joint meeting of both houses.  
Tennessee Senator Andrew Johnson introduced the petition in the Senate.  "In view of the perilous condition of the country," he said, "I think the time has arrived when we should recur back to the days, the times, and the doings of Washington and the patriots of the Revolution, who founded the government under which we live."
Two by two, members of the Senate proceeded to the House Chamber for a joint session.  As they moved through Statuary Hall, they passed a display of recently captured Confederate battle flags.   President Abraham Lincoln, whose son Willie had died two days earlier, did not attend.  But members of his cabinet, the Supreme Court, and high-ranking military officers in full uniform packed the chamber to hear Secretary of the Senate John W. Forney read the Address.
Early in 1888—the centennial year of the Constitution's ratification—the Senate recalled the ceremony of 1862 and had its presiding officer read the Address on February 22.  Within a few years, the Senate made the practice an annual event.
Every year since 1896, the Senate has observed Washington's Birthday by selecting one of its members, alternating parties, to read the 7,641-word statement in legislative session.  Delivery generally takes about 45 minutes.  In 1985, Florida Senator Paula Hawkins tore through the text in a record-setting 39 minutes, while in 1962, West Virginia Senator Jennings Randolph, savoring each word, consumed 68 minutes.  
At the conclusion of each reading, the appointed senator inscribes his or her name and brief remarks in a black, leather-bound book maintained by the Secretary of the Senate. Early entries in the notebook were typically brief explanations of the practice, accompanied by signature and date. Often, several entries appeared on a single page. In more recent years, entries have grown more elaborate and have included personal stories or comments on contemporary politics and policy. In 1956, Minnesota Senator Hubert Humphrey wrote that every American should study this memorable message. "It gives one a renewed sense of pride in our republic," he wrote. "It arouses the wholesome and creative emotions of patriotism and love of country." The book's first entry bears the signature of Ohio Republican Joseph Foraker and is dated February 22, 1900.