By tightlynes on Oct 4, 2010 in Politics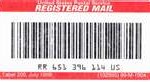 If you ask me the Democrats might be a little smarter than the Republicans when it comes to direct mail marketing. I received a letter this morning from the Democratic National Committee. The piece was as good of a direct mail promotion as any I've seen in my 50+ years in the publishing and direct mail business.
It was a very official looking piece of mail. The face of the envelope read…
 /// REGISTERED DOCUMENTS ENCLOSED ///
Registered Survey Number: 19-08-03
Response Requested within 72 hours
The back of the envelope warned in large letters …
Do Not Tamper
The enclosed letter began…
"Dear Jack"
I'm not sure why they referred to me by "Jack". My name is not "Jack". The address on the envelope was properly addressed to me so they are aware that I am not "Jack".
The letter went on to inform me all about the Democrats that are running for office. I now know why they are running, where they were running, and of their great need for campaign funds. I agree that they do indeed have a great need for campaign funds since they are soliciting non-Democrats for funds.
Overall, I have to give the Democratic National Committee an A+ in direct mail because of the attention-grabbing envelope, personalization attempt, clear and concise content, etc. However, they do have one major problem. They are trying to sell an inferior product. Any successful businessman will tell you that unless you have a good product, don't bother trying to sell it.
November 2nd presents the American People with a unique opportunity. We can either re-elect the same Democratic Congress or we can elect a new Congress.
We ask all "Patriots" to give it your all to get the word out about how important this election is. Every single vote counts. In order to have a new Congress elected we must take every opportunity to get every Republican to vote on November 2nd. ~dhb