By tightlynes on Apr 16, 2011 in Human Interest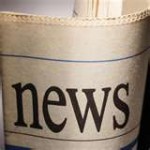 Week Beginning Apriil 10, 2011 
At "Union of Americans" we offer a review of some of the previous week's significant news. This is done by listing headlines of that week. If you would like to view an entire article, simply click on that headline. 
 Wall Street Journal (04/11/2011) 
Obama Puts Taxes on Table 
Wall Street Journal (04/12/2011) 
Japanese Crisis Is Ranked Alongside Chernobyl 
Wall Street Journal (04/13/2011) 
BP Spill's Next Major Phase: Wrangling Over Toll on Gulf 
Wall Street Journal (04/14/2011) 
Senate Report Lays Bare Mortgage Mess 
Panel Recommends a Range of Remedies for Financial Sector; 'I Found White Elephant, Flying Pig' 
Wall Street Journal (04/15/2011) 
In Florida, Interior Decorators Have Designs on Deregulation 
But Pros Say Scrapping Licensing Laws Won't Be Pretty; Flaming Carpets, Staph 
Wall Street Journal (04/16/2011) 
GOP Passes Budget Cut 
Blueprint for $5.8 Trillion Reduction Clears House, Setting Up Clash With Democrats